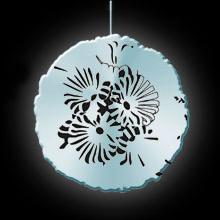 Date:
26 February – 6 March 2014
Location:
Arkwright building, NTU City site
Opening:
Monday – Friday: 10am – 5 pm
Saturday: 11am – 4 pm
Magic Light
26 Feb - 6 Mar
Magic Light brings together works by Nottingham Trent University's students, past and present, with the next generation of creative thinkers from schools across the county, to host an enchanting exhibition of lighting and poetry – all inspired by the words of Lawrence and Sillitoe.
Nottingham Trent University's Arkwright building reflects the tradition and heritage of an academic institution with roots going back to the 19th Century. It is here that D. H. Lawrence studied in 1906 and Alan Sillitoe received an Honorary Degree in 1990, and is a place they both held dear to their hearts…
"The big college built of stone, standing in the quiet street, with a rim of glass and lime-trees all so peaceful: she felt it remote, a magic land."
(D H Lawrence, The Rainbow, 1915)
A special launch event takes place on Friday 28 February, part of the larger Light Night event.
The launch show opens at 5 pm with a special welcome at 6 pm. The event will close at 9 pm.
To attend please RSVP to : boningtongallery@ntu.ac.uk
Find out more about Light Night by visiting: www.nottinghamcity.gov.uk/lightnight
The call for entries to participate in Magic Light 2014 was circulated in the autumn term of 2013: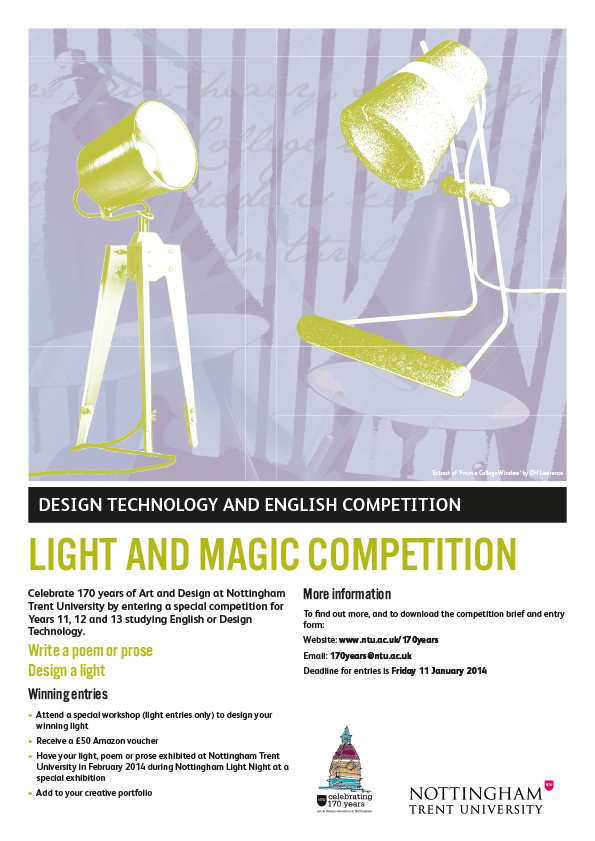 Below are images of recent student lighting work from a variety of course areas at NTU, some of which will be featured in the Magic Light show, as well as pictures of Light Night celebrations over the last two years.