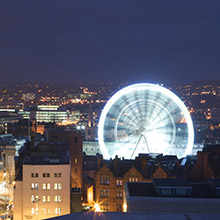 Date:
7 May 2014
Location:
Newton building, Goldsmith street, NTU City site
Opening:
6 pm - 8.30 pm
Debate: Grand Challenges: Your Future. Your City.
7 May
This debate will address the Grand Challenges of modern cities. It will look at how climate change, an aging population, health and wellbeing demand community co-ownership. In today's society, citizens are more aware of the localised problems and communities have a 'right' to determine their needs.
Community engagement in future cities has been notoriously difficult. There is apathy and potential mistrust of politicians. Authorities often fail to communicate in a way that engages or can be challenged. Public attitudes have become increasingly individualistic and many people lack the time to engage.
Chaired by:
– Dr Rachel Jones, Founder and Director, Instrata
Panel members include:
– Kay Hardiman, Head of Learning, Nottingham Contemporary
– Venu Dhupa, Independent Consultant
– George Gabriel, Community Organiser, Nottingham Citizens
– Cllr Nick McDonald, Portfolio Holder for Jobs and Skills, Nottingham City Council
– John Taylor, Owner and Founder, The Entente Consultancy
This debate will question:
– Is there hope for public engagement in Future Cities?
– Who owns the challenge of improving engagement?
– Are there sufficient resources?
– Can creative practice play a part? Will it have a lasting impact?
There are many historic examples of how powerful civic action has responded to pressing societal needs, such as the cooperative movement, the allotments 'movement', etc. Can these be repeated into the future?
Join the debate
Have your say by joining us for this debate. simply click here and select 'add to basket' at the top of the page and complete a quick online booking form.