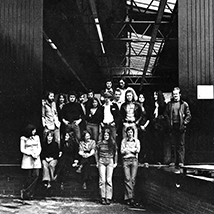 Date:
13 January 2015
Location:
Nottingham Castle, Castle Place, Nottingham, NG1 6EL
All Schools Should Be Art Schools
13 Jan 2015
All Schools Should Be Art Schools, a specially commissioned performance, written by internationally renowned playwright Michael Eaton and directed by Martin Berry.
This unique play has been written to explore the questions and critical debates around Art and Design Education and the establishment of the Art School at Nottingham Trent University.
We begin our journey in 1843 when Nottingham School of Design became the epicentre of the lace design industry in Nottingham.  Later, James Hammersley painter and teacher of art and design, took charge of the Art Schools with the visionary notion that art education should be 'free from the trammels of trade necessities.'
In All Schools Should Be Art Schools you will be introduced to key figures from the past, from significant moments of the Art School's development.  Miss Johnson (later to become Dame Laura Knight) will recall trenchant memories about the education of female pupils and Hammersley, our founding visionary, will ponder that whilst countless things have changed beyond his recognition many of the debates, dialectics and anxieties are still around today.
Download your copy of the play guide.
Due to the limited capacity of the venue this is ticket only event (ticket are free)
Tickets are still available for the :
7.30 pm evening show (arrive by 7 pm)
To book a ticket please email 170years@ntu.ac.uk specifying which showing your would like to attend, together with your name and postal address.
As this is a promenade play attendees will be required to stand for the performance with limited seating available, if you have any concerns about this please let us know in your reply.
Image: Fine Art, Nottingham Trent University, 1975