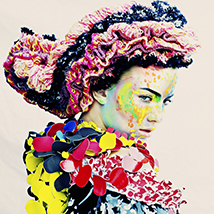 Date:
6 – 28 November
Location:
Bonington Gallery
Opening:
Preview: Thursday 6 November, 6 pm - 8 pm
Knitting Nottingham
6 – 28 Nov
A richly diverse collection of the futuristic and the retrospective: Knitting Nottingham challenges popular perceptions of knitting as cosy and nostalgic, showcasing creative design, art, technology and research across a wide range of knit-inspired work from internationally renowned designers, artists and researchers.
As part of Nottingham Trent University's 170 Years of Art and Design event series, it celebrates the transformational role played by Nottingham in the growth of the knitting industry and knit technology, and provokes a serious question: how far can we stretch our ideas about knitting?
The message is don't get comfortable;  contrary to what we might think, the relationship between knitting and pushing the boundaries of technology is extremely close.
Stunning garments, 3D prints, performance footwear, knitted conductive textile technology, priceless historical artefacts, a tea set made from electro-plated knit, and working state-of-the-art knitting machinery are just some of the exhibits which will testify to the innovative and challenging nature of knit today.
SPECIAL PREVIEW EVENT:
Join us for the special preview event on Thursday 6 November, 6 pm – 8 pm. Simply RSVP to boningtongallery@ntu.ac.uk
BBC RADIO NOTTINGHAM'S  BIG POPPY KNIT
As part of Nottingham Trent University's celebration of 170 Years of Art and Design heritage, we are  supporting  BBC Radio Nottingham's Big Poppy Knit in support of the Royal British Legion's annual Poppy Appeal.
1,000 poppies from the Big Poppy Knit will be on display at the Gallery as part of Knitting Nottingham. A commemorative poppy specially designed by Sir Paul Smith will also be on show during the exhibition.