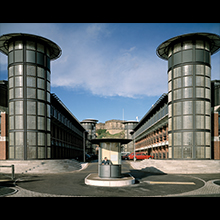 Date:
9 May - 15 May 2014
Location:
Newton building, NTU City site
Opening:
Monday - Friday 9 am - 5 pm
Saturday 11 am - 4 pm (closed Sunday)
Hopkins in Nottingham: Nottingham on Camera 1994 – 2014
9 May - 15 May
As part of Nottingham Trent University's 170th Anniversary of Art and Design, this exhibition showcases a collection of images by acclaimed architectural photographer, Martine Hamilton Knight D.Litt (hon).
The exhibition looks back over the last 20 years in recognition of the innovative and iconic buildings that make up Nottingham's skyline.
Featuring the work of Hopkins Architects, this exhibition includes the stunning Inland Revenue building, Nottingham Trent University's Newton and Arkwright building and the University of Nottingham's Jubilee Campus, as well as other Nottingham Trent University buildings.
Special Preview, Tuesday 6 May, 6 pm – 8 pm
RSVP for the special preview for this exhibition. Simply click here and select 'add to basket', you will then be prompted to complete a quick online booking form.
Image: Hopkins Architects, Inland Revenue building, Nottingham; Photographed by Martine Hamilton Knight