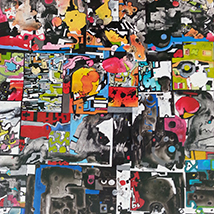 Date:
Thursday 5 February 2015
Location:
Nottingham Trent University, Arkwright building, Shakespeare Street, NG1 4BU
Opening:
7 pm - Late
170 Years Finale: The Art School Gala Dinner
Thur 5 Feb 2015
The Art School Dinner at NTU was an evening full of creativity, excitement and fun! We were honored to be joined on the night by Sir John and Lady Frances Sorrell of the Sorrell Foundation, founders of the National Saturday Art Club.
The amazing support and generosity of those that attended raised over £13,000, meaning the School of Art & Design has secured the future of the Saturday Art Club for another year!
Guests were  immersed in the Art School from the moment they entered our magnificent buildings, and were greeted by a spectacle of art installations and works to really spark their imagination. Each guest received a individual menu designed by a student from the School of Art & Design.
Image Gallery
Take a look through the image gallery below, if you see a photograph you would like please email us at artschooldinner@ntu.ac.uk  with the ID code for the image(s) and we can share them with you.

Supporting the Saturday Art Club
Our vision is to give as many young people the opportunity of an art and design education.  To nurture their talent, build their confidence and give them an insight into university life.  Showing them the pathway into further and higher education, and achieving a career in the creative industry.
Find out how the Saturday Art Club is supporting young people.
NTU is championing the SAC and aims to nurture young people's talent, improve their skills and increase their confidence.  Our aim is to raise their aspirations by offering a more insightful opportunity into art and design education.  We firmly believe that through the making of objects and freeing ideas we can support the wellbeing of young people.
If you would like to support the work of the Saturday Art Club and art and design education please visit our Art and Design 170th Fund page on the NTU website.
Enquiries
If you have any questions about the Art School Dinner please email artschooldinner@ntu.ac.uk or call 0115 848 8268.